School &
Library Visits
Storytelling Concerts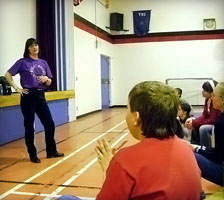 Edmonton storyteller Kathy Jessup is totally at ease entering a room full of lively children. Holding the attention of students for the better part of an hour might seem daunting to some, but Kathy quickly captures their interest and imagination– and never lets go! Over the years she's performed her original stories and world folktales in schools, libraries, concerts and festivals across Canada, and internationally. Kathy has been twice chosen for the Canadian Children's Book Centre Book Week tour. As an experienced entertainer, she presents her stories in a relaxed humorous atmosphere, building an instant rapport with her audiences. Her concerts are interactive with ample opportunity for listeners to participate.
When featuring her own work, Kathy passes along helpful insights into the creative process. In selecting folktales, Kathy loves to share stories that promote cross cultural understanding, as well as stories that reinforce positive character traits. She welcomes questions from the audience, and views that teller-listener interaction as an important opportunity for students to continue learning and drawing connections from the stories they've heard.  
Kathy's varied repertoire includes programs for all ages, from kindergarten through grade 12. Storytelling concerts can be adapted to accommodate time requirements, special requests, and particular curriculum interests.
Telling stories…depends principally upon one matter. It depends on making your listener ask all the time, "What's going to happen next?"

—Frank Delaney
For Grant Opportunities:
The Young Alberta Book Society:
Funds storytelling performances during their October literary festival "TALEBLAZERS." Schools and libraries pay the storyteller's fee, YABS covers travel and accommodation costs. Kathy is an experienced performer with this festival.
http://www.yabs.ab.ca
Storytelling Workshops
"Your Turn" (Grades 4–6)
In this workshop students discover telling tales can be a good thing—in fact, children are born storytellers! Sometimes they just need a little creative encouragement so they can really "shine." With Kathy's help, they'll discover how to let loose and have fun telling stories. They'll also learn the ingredients for shaping a good story, come up with their own tale, and gather valuable performance tips.
NOTE: In this workshop, children must be prepared (and keen!) to perform in front of others.
Writer-In-Residence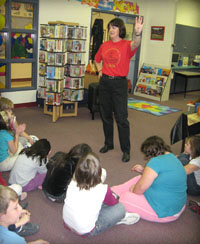 Kathy has many years experience presenting her creative writing workshops to children from Kindergarten through Grade six. She has visited dozens of schools throughout Alberta, both in the public and separate school systems.
Workshop: "Tell Me a Story" (ECS–Grade 2)
Using a storyboard format, Kathy encourages young children to tell/draw/write their stories in a fun and creative way. During the workshop Kathy guides students while providing many tips and strategies for improving their creative writing skills. This workshop is also popular in ESL and special needs classrooms.
Workshop: "Write On" (Grades 3–6)
Kathy motivates young writers with this high energy fun workshop. Using creative analogies, she encourages students to write better stories, while emphasizing the basics of a good story plan. During the workshop Kathy shares many practical tips and strategies to help improve creative writing skills.
For Grant Opportunities: