About Me
Kathy Jessup: Storyteller, Children's Writer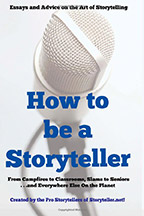 New From Kathy:
How to be a Storyteller:
Essays and Advice on the Art of Storytelling
Kathy is a contributing author to this exciting new anthology.
Available from Amazon or from Kathy directly.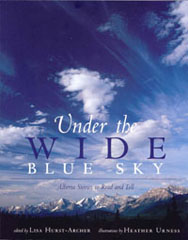 Edmonton children's writer and storyteller Kathy Jessup has been entertaining audiences since she first learned to talk. Over the years she's performed her original stories and world folktales in schools, libraries, concerts and festivals across Canada and internationally. Kathy's stories and articles have appeared in various publications including the children's magazine chickaDEE, and the Alberta Centennial anthology Under the Wide Blue Sky: Alberta Stories to Read and Tell published by Red Deer Press. 
Kathy's CD LISTEN UP: Tellable Tales for Hungry Ears features a selection of her original stories for families, and is recommended by the Canadian Children's Book Centre as a top choice. You can also hear Kathy on CDs produced by T.A.L.E.S. (The Alberta league Encouraging Storytelling.) When Kathy's not telling stories, she keeps busy with a number of different workshops including her very popular writing workshops for children, and storytelling/ performance workshops for all ages. Kathy also presents at Teachers' Conventions, Professional Development Days, literacy events, and enjoys speaking at engagements for a variety of organizations.
Kathy belongs to some wonderful Storytelling and Literary organizations. Check them out!